In January 2002, we booked our 3rd trip to this exotic Caribbean island. On past visits we had fallen in love with the warm climate and tropical breezes, but also the people and diverse afro-Cuban culture.
It was for the latter reason that we chose to book a resort located away from the main tourist areas, in the heart of the country, nestled on the beaches of the Caribbean Sea - colonial Trinidad.
Waterfall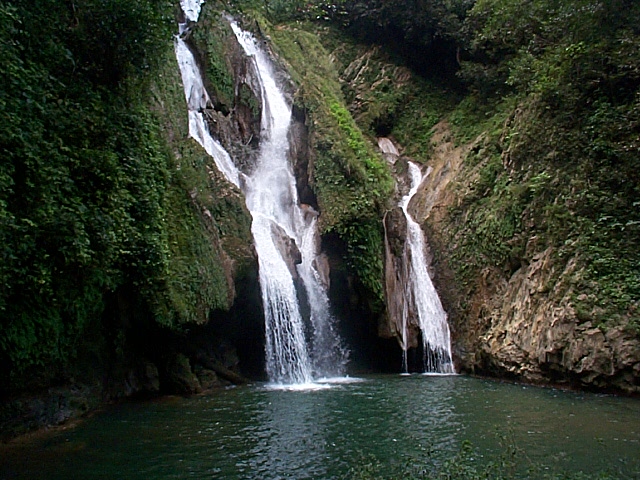 Sierra del Escambray - Trinidad, Cuba
Situated on the southern coast of Sancti Spiritus province, Trinidad is a town of approximately 20,000 inhabitants, divided into two geographical sectors: the old Colonial town and the new town. Founded in the 16th century by Diego Velazquez, the town for many years was an important fishing centre and favourite plundering spot for pirates like Capt. John Morgan.
Regarded by many Cubans as the most beautiful city in the country, Trinidad has held onto many old customs and cultures. The cobblestone streets of the old town were originally gathered from balast cast off by Spanish Galleons on their many voyages from Europe. The town centre, in various states of disrepair, has held up mostly due to the contributions of the United Nations - having declared the area an U.N.E.S.C.O. World Heritage site.
Our page is all about travelling. Nancy & I have compiled a photo journal that documents our travels and will be updated from time to time. We'd love to hear from fellow travellers; about their experiences (good & bad), recommendations, cool websites, and of course cheap deals!! We'd also love to hear about the cities and towns where you live ... big or small.

cheers - Nancy & Gordon