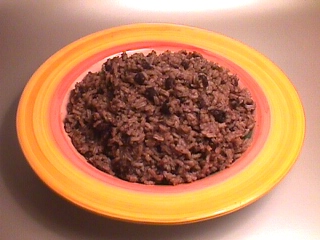 Cuban Recipes - thanks to tasteofcuba.com for inspiration
Baked Sweet Plantains
Recipe By : Mary Urrutia's "Memories of a Cuban Kitchen"
Serving Size : 6 Preparation Time: 0:00
| | | | |
| --- | --- | --- | --- |
| Amount | Measurement | Ingredient | Preparation Method |
| 4 | medium | plantains | very ripe |
| 1/2 | cup | dry white wine | or light rum |
| 1/4 | cup | dry sherry | |
| 1/4 | cup | packed brown sugar | |
| 4 | tablespoons | butter | salted |
| | | ground cinnamon | to taste |
| | | ground nutmeg | to taste |
Preheat the oven to 350=B0. Arrange the plantains in an ovenproof
casserole, pour the wine, sherry, and sugar over them, and sprinkle with
butter and cinnamon.
Cover the plantains and bake 20 to 25 minutes. Uncover, turn the
plantains over, baste, and bake, uncovered, until golden brown on top,
another 15 minutes. Serve hot.

Black Beans & Rice (Moros Y Christianos)
Ingredients
2 tsp. olive Oil
1 small onion, chopped
4 cloves garlic, minced
½ small green pepper, chopped
1 tsp. salt
pinch of black pepper
1 tsp. sugar
pinch of oregano
1 bay leaf
1 can (15.5 oz.) Black Beans, undrained
2-½ cups of water
1 cup Extra Long Grain Rice or Canilla Extra Long Grain Rice
1 tsp. Vinegar
1 tsp. white wine
Oil for garnish

Directions
1. Heat 2 tsp. oil in pot over medium heat, cook onion, garlic, and green pepper until tender
2. Stir in salt, pepper, sugar, oregano, bay leaf, black beans, and water. Bring to boil
3. Stir in rice cover. Turn heat to low, simmer 1/2 hour
4. Add vinegar and wine. When ready to serve, sprinkle with olive oil



Pollo Con Quimbobó y Platanos
Chicken with Okra and Plantains
1 cup of chopped okra, fresh or defrosted
1 whole chicken cut into 8 pieces (about 3 pounds)
2 tbsp of adobe seasoning or a mixture of the following:
salt or MSG, black pepper, paprika, cumin, coriander
vegetable oil
1 large onion chopped
4 cloves of garlic minced
1 green bell pepper, chopped
1 ½ cups of water
2 medium ripe plantains
2 medium tomatoes coarsely chopped
2 tbsp of lime juice
Season chicken with adobe or the alternative. In a heavy cast iron skillet brown the chicken pieces in hot oil on all sides. Remove the chicken to a plate. In the remaining oil, stir fry the onion, garlic and bell pepper for about 2 or 3 minutes.
Cut the okra in 1 inch size pieces. Cut away the tips and caps if desired. Peel the plantain and cut into 1 inch pieces.
Place the chicken in a deep stewing pot. Add the water and all the other ingredients. Cover and simmer until the chicken is very tender, about 15 minutes
Serve with white rice.